I continue to have lots of ideas of blog posts that I would like to publish but time is very limited at times. I caught myself being really stressed and saying "I must get that blog post finalised" but actually I am the only person that is putting pressure on myself. Blogging is amazing opportunity to document my life and things that inspire me but never should feel stressed about it. Blogging can be worked around my family's daily life. Last week, Mr L was on holiday Monday - Wednesday so I did not have much time during the day to blog and so less blog posts than normal.
This week, I am going to focus on Pinterest and Facebook. I have been re-decovering
Pinterest
again. When I was one maternity leave with my Daughter, I spent hours on Pinterest. I have "pinned" lots of useful tutorials for blogging the last couple days. I would like to add more of my blog postings to Pinterest and do daily "pinning" for future blog posts.
I don't feel that Facebook is the most effective social media tool but I am hoping to improve my response rate. I am going to look at deleting the "followers" that are spam or fake in the hopes not more "true" followers will see my postings. Below is an interesting article that has inspired me to look into deleting some followers. I also am going to make an effort to post more. The ratio 1 to 3 has been suggested. 1 posting about my blog or "me" posts and 2 "other" posts. Share interesting articles with my readers that I have discovered. My new Facebook strategy will mean decreasing number of followers in hopes to get more quality followers.
I will work on "pinning" more of my blog posts to my Pinterest account so hopefully get some traffic from Pinterest to blog. Also looking around Pinterest is rather easy thing to do on my phone while little ones are playing.
I really am so happy that I started blogging the last couple months because it is starting to "open new doors" to future professional
experience.
BLOGGING ADVICE
Why I Am Deleting My Facebook Followers by Chelsea at Budget Girl
How To Make the Most of Pinterest
by Kate at
KatelynBrooke
BLOG LAYOUT CHANGES
Added the Blogtacular Badge to the side bar. I also committed to do a "May Blogging Challenge" so added that badge too.
NETWORKING EFFORTS
Link Parties
Living Arrows - Bubbles Fun
My Captured Moment - Bubbles Fun
Point+Shoot - UK Adventure: Bubbles Fun
{THE ORDINARY MOMENTS 15} -
Little Ladybug
#MYSUNDAY PHOTO - Week 17
FAVOURITE LINK PARTIES DISCOVERED THIS WEEK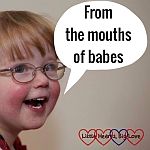 FAVOURITE BLOGS DIS
COVERED THIS WEEK
Views Last Month - 3,639 (+239)
Instagram - 85 Followers (+11) 253 Following
Twitter - 722 (+56) 797 Following
Pinterest - 99 Followers